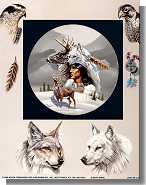 "Born Hunters" by Gary Ampel 16x20 Native American print
Code: BORNHUNTERS
Paper Size: 16x20
The center medallion image on these prints depicts a Native American Indian hunter and two deer or elk. The outer border images include wolves and hawks.
Price: $7.95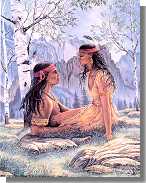 "Day Dreamers" - Jonnie Kostoff Indian Print
Code: INDDAYDREAM
Paper Size: 16x20
Two native American Indians exchange gazes in these 16x20 pictures.

Price: $7.95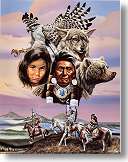 "Flight of the Tribe" - Gary Ampel 16x20
Code: FLIGHTTRIBE
Paper Size: 16x20
Three native Americans are on horseback in a mountainous region, while above are icons of a native American Indian elder, a child, a hawk, a wolf, and a bear.
Price: $7.95


Native American Indian Map of Nations 16x20
Code: INDIANMAP
Paper Size: 16x20
A United States map showing the historical locations of many of the native American tribes. Above the map are depictions of feathers and their possible meanings. Below the map are a few symbols used by some of the tribes.
Price: $7.95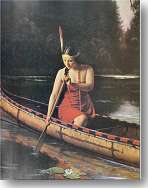 "Indian Maiden Canoe" 16x20
Code: INDIANMAIDENCANOE
Paper Size: 16x20
A native American Indian maiden paddles a canoeThe print is a reproduction of an older painting, and shows the age of the painting. Therefore, it appears a bit grainy. Standard paper.
Price: $7.95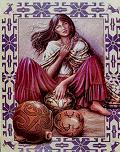 Zuni Potter - Ferraro 16x20
Code: ZUNIPOTTER
Paper Size: 16x20
Native American Indian print shows a woman potter.
Price: $7.95