"Old Fashioned Wedding" by Lionel Talaro print
Code: OLDFASHWED
Paper Size: 22x28
A happy scene is depicted as the young African-American couple is wed in country setting. The small country church is visible in the background.22x28 inches overall paper size on heavy stock. Includes a white border.
Price: $15.95

"Return to Forever" - Edward Clay Wright Buffalo Soldiers print
Code: RETURNFOREVER
Paper Size: 22x28
Romantic black art image of a soldier and his love.
Price: $22.95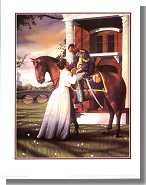 "Farewell" - Edward Clay Wright Buffalo Soldiers prints
Code: FAREWELL
Paper Size: 22x28
An African-American buffalo soldier in Union U.S. Civil War uniform sits atop a grand horse. He gazes into the eyes of his love for what may be the last time as he prepares to leave for battle. White border. This Buffalo Soldiers print has a 22x28 inch overall paper size
Price: $22.95



Promise - Hulis Mavruk 24x30
Code: PROMISE
Paper Size: 24x30
Image Size: 22x28
A black man gives a rose to his woman.
Image size: 22x28

Price: $40.95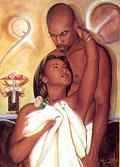 For Your Eyes Only - Gerald Ivey 24x32
Code: FORYOUREYESONLY
Paper Size: 24x32
A black man and woman in a romantic black art print by artist Gerald Ivey.
Price: $50.95


To Us - Henry Battle 32x24 print
Code: TOUS
Paper Size: 32x24
An African American couple enjoy an evening by the fireplace in this romantic black art print.
Price: $57.95